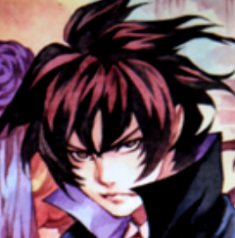 Description: Laplace no Ma (AKA: Laplace's Demon) is a classic survival horror-themed JRPG. This game originally released in Japan only. Thanks to the tech-savvy internet the game has released online with full in-game English translations.
The story of Laplace no Ma takes place in Boston, Massachusetts. This a multiple character group-oriented open-world JRPG. You're able to walk around different areas of the city. The game's progression takes place in a mansion where a mysterious owner has dabbled with black magic. There is a lot of evil things going on in this mansion. Discover what is going on and try to clear all evil beings that threaten Boston, Massachusetts.
How To Play?: This game plays like a turn-based JRPG. So you'll level up, gather helpful inventory items and fight against enemies. When fighting enemies you'll text select attacks and defenses.
Developer: Group SNE, Vic Tokai (Original Release 1993)
Controls:
"Enter Key" = Start Game.
"Arrow Keys" = Move.
"Z" Key = Make Selections.
"X" Key = Make Selections.
To Save Game Progress State Press = [Shift+F2], Load Progress State [Shift+F4], or use Save/Load buttons seen in-menu when scrolling mouse over. You can also modify controls in the in-menu.
You can expand the game to fullscreen using the in-menu option.
For mobile use onscreen game controls.
Playable Platforms: Online on all Web browsers (Desktop PC and Mobile Phones / Tablets). If you're playing this game using a mobile device please allow more time for the game to load up. [PC Google Chrome Browser Recommended].
Video Walkthrough:
---