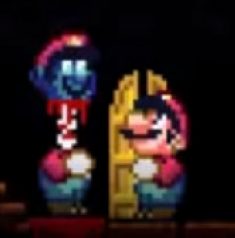 Description: Game.BPS Mario World is one of the scariest fan-made Super Mario World revisions ever released. In this game, Mario wakes up and finds himself in a mysterious haunted mansion. Created by SMWCentral user Wakana. His main focus was to twist Super Mario World into something very scary. Each level area of this game has some really creepy and horrifying scenes. Scenes of dead, gruesome blood and ghosts are common. While playing be sure to keep the lights on!
How To Play: This game is hard so be sure to watch the video walkthrough posted below. So you know where to go and strategies to pass certain areas. Other than that it plays like a normal classic Super Mario game.
Controls:
"Enter Key" = Start Game.
"Arrow Keys" = Move.
"Z" Key = Twist Jump.
"X" Key = Jump.
Hold "S" Key + left or right Arrow Key = Run.
To Save Game Progress State Press = [Shift+F2], Load Progress State [Shift+F4], or use Save/Load buttons seen in-menu when scrolling mouse over. You can also modify controls in the in-menu.
You can expand the game to fullscreen using the in-menu option.
For mobile use onscreen game controls.
Playable Platforms: Play Game.BPS Mario World online on all Web browsers (Desktop PC and Mobile Phones / Tablets). If you're playing this game using a mobile device please allow more time for the game to load up. [PC Google Chrome Browser Recommended].
Video Walkthrough:
---