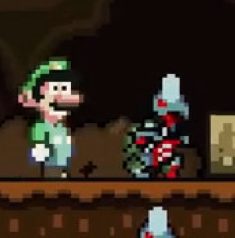 Description: The Nightmare House is a short but frightening Luigi game. Created by modder WAKANA~, This is a Super Mario World revision. On Halloween night Luigi decides to take a walk but eventually notices he is not in the mushroom kingdom. He eventually finds himself in a haunted house. Boo enemies of all sizes are flying around, while dead turtles and evil jack o'lanterns hold the low ground. Luigi isn't used to this atmosphere. He must make it out of this nightmare as fast as he can.
How To Play: This is a hard game so please watch the Walkthrough video posted below. It plays like a normal classic Mario game. you'll run, jump on enemies, collect coins and try to pass levels.
Controls:
"Enter Key" = Start Game.
"Arrow Keys" = Move.
"Z" Key = Twist Jump.
"X" Key = Jump.
Hold "S" Key + left or right Arrow Key = Run.
To Save Game Progress State Press = [Shift+F2], Load Progress State [Shift+F4], or use Save/Load buttons seen in-menu when scrolling mouse over. You can also modify controls in the in-menu.
You can expand the game to fullscreen using the in-menu option.
For mobile use onscreen game controls.
Playable Platforms: Play Luigi Bros: The nightmare House online with almost all Web browsers (Desktop PC and Mobile Phones / Tablets). If you're playing this game using a mobile device please allow more time for the game to load up. [PC Google Chrome Browser Recommended].
Video Walkthrough:
---