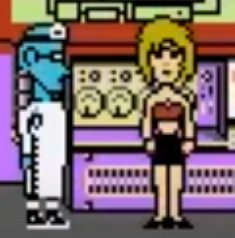 Game Description: Maniac Mansion is a classic story-driven Point and click adventure game. The game follows a teenager named Dave Miller. Dave is on a quest to rescue his girlfriend Sandy Pantz from a mad scientist who lives at the Maniac Mansion. You can play as six different characters along with dave throughout the story. Will you have what it takes to solve the puzzles of the Maniac Mansion? Or will the mad scientist succeed with experiments with Sandy? Play to find out.
How To Play?: When starting a new game you'll have to select two other kid characters besides Dave. You can make selections by using the "Z" key. Throughout the game, you'll have to make text selection decisions. You'll also have to select certain found items to progress in different situations solving puzzles.
Developer: Lucasfilm Games (1987)
Controls:
"Enter Key" = Start Game.
"Arrow Keys" = Move Mouse Pointer.
"Z" Key = Make On-screen selections.
To Save Game Progress State Press = [Shift+F2], Load Progress State [Shift+F4], or use Save/Load buttons seen in-menu when scrolling mouse over. You can also modify controls in the in-menu.
You can expand the game to fullscreen using the in-menu option.
For mobile use onscreen game controls.
Playable Platforms: Online on all Web browsers (Desktop PC and Mobile Phones / Tablets). If you're playing this game using a mobile device please allow more time for the game to load up. [PC Google Chrome Browser Recommended].
Video Walkthrough: