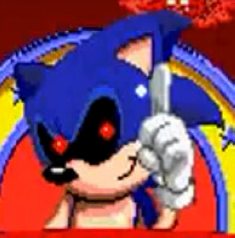 Description: Play through the first 3 levels of the original Sonic The Hedgehog game as the evil Sonic.EXE. You'll notice that the level designs and items have been completely modified in this game. Ring boxes are now Eggman traps. The levels all have blood-red colors in their backgrounds and a darker tone to them. Sonic.EXE can double jump and has the ability to charge at enemies. This is a short game but worth playing.
How To Play?: Collecting rings will give you health. As long as you have at least 1 ring you won't die when taking damage. Jump on top of enemies or charge at enemies to defeat them. Try to avoid being hit by enemies. Try to pass all 3 levels and face the final boss Eggman.
Developer: By SEGA / Modded By POTTERANDMATRIXFAN
Controls:
"Enter Key" = Start Game.
"Arrow Keys" = Move.
"Z" Key = Jump.
"X" Key double Tap = Charge Dash.
To Save Game Progress State Press = [Shift+F2], Load Progress State [Shift+F4], or use Save/Load buttons seen in-menu when scrolling mouse over. You can also modify controls in the in-menu.
You can expand the game to fullscreen using the in-menu option.
For mobile use onscreen game controls.
Playable Platforms: Online on all Web browsers (Desktop PC and Mobile Phones / Tablets). If you're playing this game using a mobile device please allow more time for the game to load up. [PC Google Chrome Browser Recommended].
Video Walkthrough:
---