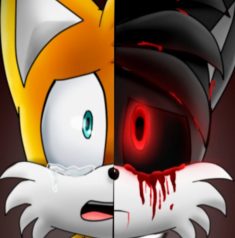 Description: This is a fan game created by supersonic1212. It is a continuation of the Sonic.EXE story featuring Tails The Fox. You'll have to make it through the Hill Zone and other zones. Sonbic.EXE will ask you a number of questions. Think in your mind what you would like to do? Don't let Sonic.EXE become your master. Hopefully, tails stay alive. Play to find out.
How To Play: Keep walking to the right. Don't be slow though, or Sonic.EXE will win and take control.
Controls:
"Enter Key" = Start Game.
"Arrow Keys" = Move.
Playable Platforms: Play Sonic.EXE – Tails the fox online on all Web browsers (Desktop PC and Mobile Phones / Tablets). If you're playing this game using a mobile device please allow more time for the game to load up. [PC Google Chrome Browser Recommended].