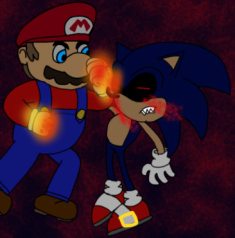 Description: This is a strange Super Mario World revision created by modder TheInsanity115. In this game, you'll play as Mario. Sonic.EXE has completely destroyed the Sonic The Hedgehog world. Tails, Knuckles, Amy, Sally, and even Dr.Robotnik are all dead. Sonic.EXE's next step is to take over the Mushroom Kingdom and have Bowsers minions work and slave for him. Sonic.EXE has captured all of Mario's closest friends, family, and even enemies. It's time for Mario to put a stop to this Madness. If you can make it to the last boss, Mario will face off against Sonic.EXE.
How To Play: It plays like the classic Super Mario World game. Run, jump, and collect coins. Jump on any enemies that are in your way.
Controls:
"Enter Key" = Start Game.
"Arrow Keys" = Move.
"Z" Key = Jump.
To Save Game Progress State Press = [Shift+F2], Load Progress State [Shift+F4], or use Save/Load buttons seen in-menu when scrolling mouse over. You can also modify controls in the in-menu.
You can expand the game to fullscreen using the in-menu option.
For mobile use onscreen game controls.
Playable Platforms: Play Mario vs Sonic.EXE online on all Web browsers (Desktop PC and Mobile Phones / Tablets). If you're playing this game using a mobile device please allow more time for the game to load up. [PC Google Chrome Browser Recommended].
Video Walkthrough:
---