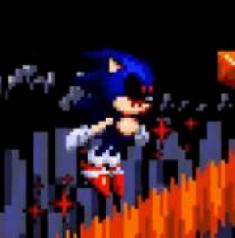 Description: This is a complete recreation of the original Sonic The Hedgehog 1 game with one goal to look and play like a Sonic.EXE game. The graphics been completely changed to look very dark and gothic. The music now shares the Sonic.EXE eerie tunes of the original game. Even rings are no longer yellow, instead, they are blood red. You'll play through the game as Sonic.EXE with blood-red eyes he levitates & glides through the levels instead of running. This is an awesome creepy revision of a classic created by modder exclipsy209. We hope you enjoy playing this!
How To Play Tips: Try to pass all levels and defeat all bosses. Collect blood rings to fuel sonic.exe.
Controls:
"Enter Key" = Start Game.
"Arrow Keys" = Move.
"Z, X, C, A, S, D" Keys = Action Keys.
To Save Game Progress State Press = [Shift+F2], Load Progress State [Shift+F4], or use Save/Load buttons seen in-menu when scrolling mouse over. You can also modify controls in the in-menu.
You can expand the game to fullscreen using the in-menu option.
For mobile use onscreen game controls.
Playable Platforms: Play Sonic 1.exe online with Desktop PC, Mobile Devices, & Chromebook web browsers. [PC Google Chrome Browser Recommended].
---