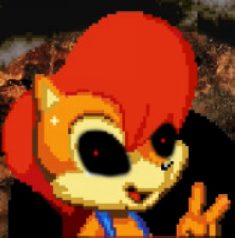 Description: This is an online version of MY5TCrimson's (Of GameJolt) popular creepypasta game known as Sally.EXE. This recreation was made by Scratch user Bad-Piggie. Playing as Sally you must avoid the. EXE corruption that's coming for you. Sally will be placed in a number of confusing rooms in an attempt to trap her. She must do whatever it takes to make it out alive. Evil is all around her though, so Escape will be really hard. Will Sally make it out alive? or will the .EXE virus corrupt her? Play to find out!
How To Play: Keep walking to the right. In some areas, you'll have to use the jump button to make it to the next scene.
Controls:
"Enter Key" = Start Game.
"Arrow Keys" = Move.
"Up Arrow" = Jump.
Playable Platforms: Play Sally.EXE online on all Web browsers (Desktop PC and Mobile Phones / Tablets). If you're playing this game using a mobile device please allow more time for the game to load up. [PC Google Chrome Browser Recommended].
---