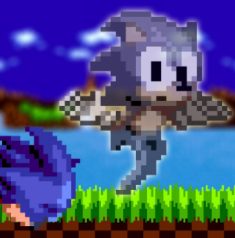 Description: Legend has it in Sonic.EXE's last battle with Sonic The Hedgehog. Sonic was killed. Sonic.EXE was unable to completely stop Sonic and was taken back to his corrupted realm. Sonic's unrested spirit lived on to protect Sonic's World known as "The Earth". As a Ghosthog Sonic can't be killed but still can be hurt. He will now continue his mission to defeat Dr.Robotnik and foes. This game MOD was created by Sonic modder Kilo.
How To Play Tips: Try to pass all levels. Collect rings for health. Being a ghost has its perks.
Controls:
"Enter Key" = Start Game.
"Arrow Keys" = Move.
"Z, X, C, A, S, D" Keys = Action Keys.
To Save Game Progress State Press = [Shift+F2], Load Progress State [Shift+F4], or use Save/Load buttons seen in-menu when scrolling mouse over. You can also modify controls in the in-menu.
You can expand the game to fullscreen using the in-menu option.
For mobile use onscreen game controls.
Playable Platforms: Play Sonic The Ghosthog online with Desktop PC, Mobile Devices, & Chromebook web browsers. [PC Google Chrome Browser Recommended].
---