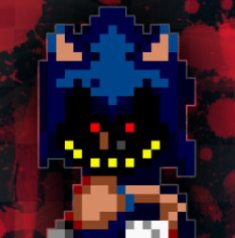 Description: AugustinBazan683 is the modder that created this revision. It's based on the original Sonic The Hedgehog game. When I played this game I immediately could tell AugustinBazan683 is a huge Sonic.EXE fan. This revision has many changes to it. The graphics are the biggest change. Playing as Sonic.EXE is horrifying. Sonic.EXE is Dark blue with, dark eyes that are bleeding, yikes he looks so scary. All the levels are brand new and well designed. They have either a gothic-like feeling to them or are painted in a blood-red look. What I like most though is the new creepy music added, it goes well with the overall theme of the game. This is one of the better game revisions available on this website and I recommend playing it!
How To Play: It plays like a classic Sonic game. Collect rings for health. defeat enemies and bosses by jumping on them or using the spin dash attack.
Controls:
"Enter Key" = Start Game.
"Arrow Keys" = Move.
"Up Arrow" = Jump.
You can expand the game to fullscreen using the in-menu option.
For mobile use onscreen game controls.
Playable Platforms: Play Sonic.EXE AugustinBazan683 online on all Web browsers (Desktop PC and Mobile Phones / Tablets). If you're playing this game using a mobile device please allow more time for the game to load up. [PC Google Chrome Browser Recommended].
Video Walkthrough: