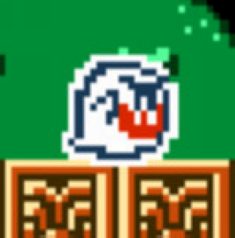 Description: The Grim Reaper has kidnapped Princess Peach and Mario is nowhere to be found. Since Boo is controlled by Bowser, Grim Reaper is his rival. You'll play through levels as Boo. This is based on the original Super Mario Bros. All graphics and levels have been changed and tweaked. Even in a few levels, you'll play as bullet bill. This revision was created by modder Googie.
How To Play: It plays mostly like a normal classic Mario bros game. Jump on enemies to stop them. Jump over gaps. Running while jumping is very important.
Controls:
"Enter Key" = Start Game.
"Arrow Keys" = Move.
"Z" Key = Jump.
Hold "X" Key + left or right Arrow Key = Run.
To Save Game Progress State Press = [Shift+F2], Load Progress State [Shift+F4], or use Save/Load buttons seen in-menu when scrolling mouse over. You can also modify controls in the in-menu.
You can expand the game to fullscreen using the in-menu option.
For mobile use onscreen game controls.
Playable Platforms: Play EDS Ghost Mario Bros online with almost all Web browsers (Desktop PC and Mobile Phones / Tablets). If you're playing this game using a mobile device please allow more time for the game to load up. [PC Google Chrome Browser Recommended].
Video Walkthrough:
---