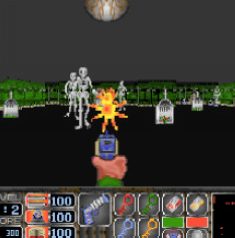 Description: Nitemare 3D (AKA: Nightmare 3D) is a horror-themed first-person shooter that originally released in 1994 on MS-DOS PCs. In this game, you'll play as a character named Hugo. Hugo's girlfriend named Penelope has been kidnapped by the evil Dr. Hammerstein for use in heinous experiments.  Hugo must travel through maze-like labyrinths and fight against many monsters (Bats, Skeletons, Zombies, Horror creatures) to save her.
How To Play Tips: avoid and Shoot enemies dead. Find colored keys to unlock doors. Try to make it through the exit door to pass each level.
Controls: "Enter Key" = Make Selections. "Arrow Keys" = Move. "Ctrl Key" = Attack. "Space Bar" = Open Door.
Playable Platforms: Play Nitemare 3D (DOS) online with Desktop PC, Mobile Devices, & Chromebook web browsers. [PC Google Chrome Browser Recommended].
---