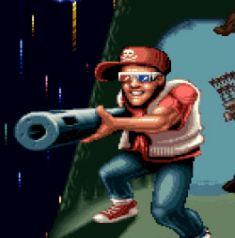 Description: Ghoul Patrol is the spiritual sequel to Zombies At My Neighbors isometric action game. You'll be able to select from two characters (Zeke or Julie). These are the same characters from Zombies At My Neighbors. This game is a little different though. Instead of fighting against zombies. You'll face paranormal enemies like Ghouls, monsters, and ghosts.
How To Play: Armed with weapons. In each level defend yourself from enemies that are coming at you. You can also avoid them by sliding away. Collect keys to unlock doors that you need to get into. When all humans are saved in a level an exit door will appear.
Controls:
"Enter Key" = Start Game.
"Arrow Keys" = Move.
"S" Key = Shoot Gun.
"X" Key = Jump.
Hold "A" Key = Slide.
To Save Game Progress State Press = [Shift+F2], Load Progress State [Shift+F4], or use Save/Load buttons seen in-menu when scrolling mouse over. You can also modify controls in the in-menu.
You can expand the game to fullscreen using the in-menu option.
For mobile use onscreen game controls.
Playable Platforms: Play Ghoul Patrol online with almost all Web browsers (Desktop PC and Mobile Phones / Tablets). If you're playing this game using a mobile device please allow more time for the game to load up. [PC Google Chrome Browser Recommended].
Video Playthrough:
---