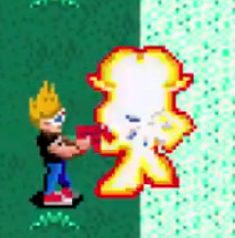 Description: This is the unofficial 3rd part of the Zombies Ate My Neighbors series. Also known as "Zombies Ate My Neighbors – The Sequel". This is a fan-made revision created by four modders. This game features 55 completely new levels, made from scratch. A side quest for completionists. Reverse item cycling! New items! A friendly NPC. A custom loot table. Custom background palettes, sprites, and much more. If you enjoyed the first game you'll enjoy part 3 also.
How To Play: Shoot Zombies and monsters. Your main goal is to save all Neighbors at each level. By doing so an exit door will appear. Also, be sure to collect Keys so you can open locked doors.
Controls:
"Enter Key" = Start Game.
"Arrow Keys" = Move.
"S" Key = Shoot Gun.
Hold "A" Key = Use Item (Like a health pack, if you have one).
To Save Game Progress State Press = [Shift+F2], Load Progress State [Shift+F4], or use Save/Load buttons seen in-menu when scrolling mouse over. You can also modify controls in the in-menu.
You can expand the game to fullscreen using the in-menu option.
For mobile use onscreen game controls.
Playable Platforms: Play Zombies Ate My Neighbors 3 online with almost all Web browsers (Desktop PC and Mobile Phones / Tablets). If you're playing this game using a mobile device please allow more time for the game to load up. [PC Google Chrome Browser Recommended].
Video Walkthrough:
---