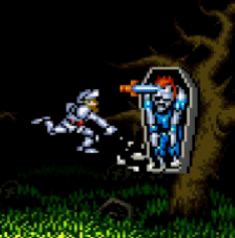 Description: This is a horror-themed side-scrolling platform game. Originally released in 1991 on the SNES. You'll play as a knight named Arthur who is on a quest to rescue the princess from demons.
How To Play Tips: This is a very difficult game, that requires a lot of trial and error. Throw staffs at enemies. try to collect armor upgrades. When you get hit Arthur will lose his armor. Double Jump comes in handy.
Controls:
"Enter Key" = Start Game.
"Arrow Keys" = Move.
"Z" Key = Attack.
"X" Key = Jump.
Double Tap X Key = Double Jump.
To Save Game Progress State Press = [Shift+F2], Load Progress State [Shift+F4], or use Save/Load buttons seen in-menu when scrolling mouse over. You can also modify controls in the in-menu.
You can expand the game to fullscreen using the in-menu option.
For mobile use onscreen game controls.
Playable Platforms: Play Super Ghosts 'n Goblins online with almost all Web browsers (Desktop PC and Mobile Phones / Tablets). If you're playing this game using a mobile device please allow more time for the game to load up. [PC Google Chrome Browser Recommended].
---