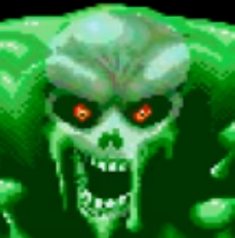 Description: The Ooze is a really unique horror-themed game. You'll play as a green pile of goo. The goo is actually an altered human named Dr. Daniel Caine. Dr. Caine worked at a chemical plant known as "The Corporation". He found out the company was up to no good and that they had a plan to release "Operation: Omega" a deadly plague on the nearby population. "The Corporation" planned to charge a hefty price for a cure. Dr. Caine was caught sneaking into the research lab trying to disrupt "Operation: Omega". Colleagues caught him and quickly disposed of him using chemical waste. Instead of killing him though, the chemical waste transformed Dr. Caine into a powerful green goo mutant. Now Dr.Caine has two goals he must achieve. #1 to stop "Operation: Omega" from happening, #2 Find a way to change back to his original human form.
This game reminds me of two movies. Swamp Thing (1982) and the classic horror film The Stuff (1985)
How To Play?: You'll have two attacks. A short and long goo attack. Move around toxic enemies and shoot them dead. At times it's best to avoid enemies while progressing through levels. Be sure to collect available health and power-ups.
Developer: SEGA (Original Release 1995)
Controls:
"Enter Key" = Start Game.
"Arrow Keys" = Move.
"S" Key = Close Goo Attack.
"X" Key = Shoot Goo.
"X" Key double Tap = Charge Dash.
To Save Game Progress State Press = [Shift+F2], Load Progress State [Shift+F4], or use Save/Load buttons seen in-menu when scrolling mouse over. You can also modify controls in the in-menu.
You can expand the game to fullscreen using the in-menu option.
For mobile use onscreen game controls.
Playable Platforms: Online on all Web browsers (Desktop PC and Mobile Phones / Tablets). If you're playing this game using a mobile device please allow more time for the game to load up. [PC Google Chrome Browser Recommended].
Video Walkthrough: