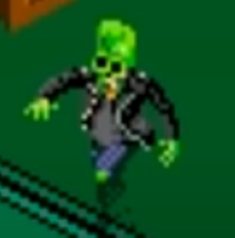 Description: The Haunting is like a Poltergeist simulator game with lots of added comedy, lol. You'll take control of a character named Polterguy. Polterguy is a creepy-cool green ghost. When alive he was a punk skater teenager. Polterguy died in a skateboarding accident caused by defective skateboard parts. Now Polterguy seeks revenge on the creator of the skateboards named Vito Sardini. Polterguy now haunts Vito Sardini and his family's home.
How To Play?: Try to jump scare members of the family using creative methods. Such as possessing household objects, Spinning in front of them, and more. Drive fear into them and make their life as miserable as possible. You might need to watch some of the video walkthrough posted below to understand how the gameplay works.
Developer: Electronic Arts (Original Release 1993)
Controls:
"Enter Key" = Start Game.
"Arrow Keys" = Move.
"Z" Key = Open Boo Menu/select items.
"S" Key = possess Objects.
"X" Key = Scary Spin.
To Save Game Progress State Press = [Shift+F2], Load Progress State [Shift+F4], or use Save/Load buttons seen in-menu when scrolling mouse over. You can also modify controls in the in-menu.
You can expand the game to fullscreen using the in-menu option.
For mobile use onscreen game controls.
Playable Platforms: Online on all Web browsers (Desktop PC and Mobile Phones / Tablets). If you're playing this game using a mobile device please allow more time for the game to load up. [PC Google Chrome Browser Recommended].
Video Walkthrough:
---