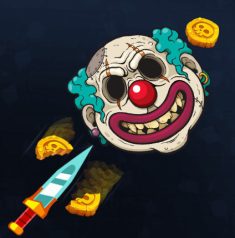 Description: Trapped in a room this spinning wheel of ghoulish heads goes round and round. You are forced to throw knives at it. How High can you score?
How To Play Tips: Keep throwing knives at the head. Try not to hit any knives already stuck into the head or it will be game over and a jump scare will appear. Hit the coin, for an extra score. Try to make it as far as possible to achieve the highest level score.
Controls: Use your mouse click to throw knives.
Playable Platforms: Play Knife Hit Horror online with Desktop PC, Mobile Devices, & Chromebook web browsers. [PC Google Chrome Browser Recommended].
---