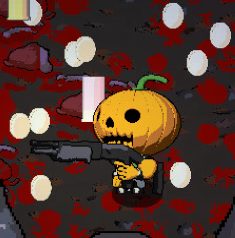 Description: A pumpkin head has made his way out of hell and he has no plans to go back. The evil clowns and demons are after him, trying to bring him back. The pumpkin head will deal with them with intense firepower. Enjoy playing this fun "stay alive as long as you can" 2D shooter.
How To Play Tips: Run and dodge while shooting enemies. Find new weapons and ammo on the floor. Try to stay alive as long as possible. Coins can be used to buy new stronger characters at the shop after you die.
Controls:
W,A,S,D Keys = Move. Mouse = Aim & shoot. Esc Key = Lock Mouse Cursor. E Key = Pick Up & interact with objects.
Playable Platforms: Play Puppets Cemetery online with Desktop PC, Mobile Devices, & Chromebook web browsers. [PC Google Chrome Browser Recommended].
---