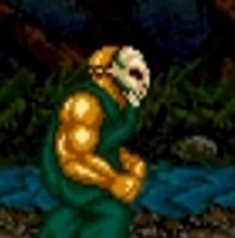 Description: Splatterhouse 2 is a horror-themed 2D sidescrolling beat 'em up game. You'll play a character named Rick Taylor who resembles Jason from the Friday The 13th movies. The story of this game takes place after the events of the first game. Rick is still trying to save his college friend Jennifer Willis. Jennifer was abducted is still trapped in a creepy mansion known as the "Splatterhouse". The Splatterhouse is filled with all kinds of evil creatures and creepy bosses. Can Rick save Jennifer and make it out of the Splatterhouse alive? Play to find out!
How To Play?: The game moves fairly slowly, so timing is everything. Knowing when to rush in and attack enemies is critical while playing. You are armed with a punch, jump kick, and low kick attacks. Learning to use these attacks against enemies will determine your success in progressing through the game.
Developer: Now Production (Original Release 1992)
Controls:
"Enter Key" = Start Game.
"Arrow Keys" = Move.
"Z" Key = Jump.
"X" Key = Punch & Kick Attack.
To Save Game Progress State Press = [Shift+F2], Load Progress State [Shift+F4], or use Save/Load buttons seen in-menu when scrolling mouse over. You can also modify controls in the in-menu.
You can expand the game to fullscreen using the in-menu option.
For mobile use onscreen game controls.
Playable Platforms: Online on all Web browsers (Desktop PC and Mobile Phones / Tablets). If you're playing this game using a mobile device please allow more time for the game to load up. [PC Google Chrome Browser Recommended].
Video Walkthrough:
---