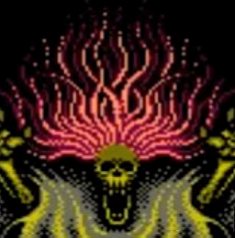 Description: Sweet Home is a Japanese survival horror role-playing based on the popular classic horror film. This version of the game has added English text created by game modders. You'll play as 3 different characters. All the characters play an important role in the game's story. You'll encounter a dark and mysterious story while traveling through a creepy mansion. You'll also encounter many different ghosts and hostile supernatural enemies. Can you survive this mansion?
How To Play?: Sweet home plays like a classic turn-based JRPG. You'll have attack and defense selections pop up on the screen. choose selections wisely in battles. When you defeat enemies you'll unlock new attacks and gain new items.
Developer: Capcom (1989 Japan Only)
Controls:
"Enter Key" = Start Game.
"Arrow Keys" = Move.
"Z" Key = Make Selections and pick up items.
To Save Game Progress State Press = [Shift+F2], Load Progress State [Shift+F4], or use Save/Load buttons seen in-menu when scrolling mouse over. You can also modify controls in the in-menu.
You can expand the game to fullscreen using the in-menu option.
For mobile use onscreen game controls.
Playable Platforms: Online on all Web browsers (Desktop PC and Mobile Phones / Tablets). If you're playing this game using a mobile device please allow more time for the game to load up. [PC Google Chrome Browser Recommended].
Video Walkthrough:
---