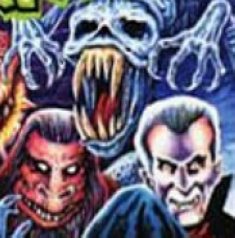 Description: Monster Party isn't really a horror game or even a scary game. But it has a lot of horror type enemies and characters in it. It has a Halloween sort of vibe to it. You'll play as a baseball player kid named Mark. Mark was looking at a bright star one day that actually turned out to be a monster falling from the sky. The monster named "Bert" asked mark to help him destroy all the monsters that are out of control invading his planet. At first, Mark was hesitant but Bert assured him he would be able to destroy the monsters with his trusty bat.
How To Play?: Monster party is an action platform game. You'll go through levels fighting monsters and giant monster bosses. Just know when to avoid enemies and attack enemies. Movement and reflexes are critical. In certain parts of the game, Mark will be able to transform in cool monsters.
Developer: Human Entertainment (1989)
Controls:
"Enter Key" = Start Game.
"Arrow Keys" = Move.
"Z" Key = Jump.
"X" Key = Swing Baseball Bat Attack
To Save Game Progress State Press = [Shift+F2], Load Progress State [Shift+F4], or use Save/Load buttons seen in-menu when scrolling mouse over. You can also modify controls in the in-menu.
You can expand the game to fullscreen using the in-menu option.
For mobile use onscreen game controls.
Playable Platforms: Online on all Web browsers (Desktop PC and Mobile Phones / Tablets). If you're playing this game using a mobile device please allow more time for the game to load up. [PC Google Chrome Browser Recommended].
Video Walkthrough: