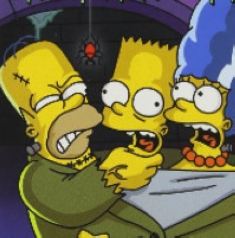 Description: The classic side-scrolling adventure game based on the popular Simpsons Halloween episodes known as the "Treehouse Of Horror". Originally released on Gameboy color in 2001. In this game, you'll play through 7 levels. With Homer, you'll play through 3 levels and 1 level each with Bart, Maggie, and Marge. You'll encounter ghosts, monsters, and more.
How To Play Tips: Each level is different from the other. In most levels, you'll fight enemies. You'll have to move, jump and attack at the right moments.
Playable Platforms: Play The Simpsons: Treehouse Of Horror online with Desktop PC, Mobile Devices, & Chromebook web browsers. [PC Google Chrome Browser Recommended].
---