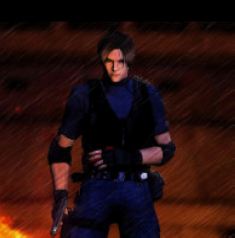 Description: This was the first and only Resident Evil game released for the Game Boy color in 2001. In this game, you can play as 3 characters from the series. You'll explore areas and fight infected c-virus zombies that are attempting to kill you. The combat plays like a first-person RPG. Where you'll have to time attacks at the right moments.
How To Play Tips: Try to make it out of each level area alive. When you attack a zombie a line reticle will go back and forth. Make sure you hit the middle of it in order to have a successful attack.
Controls:
"Enter Key" = Start Game.
"Arrow Keys" = Move.
"Z, X" Keys = Action Keys.
To Save Game Progress State Press = [Shift+F2], Load Progress State [Shift+F4], or use Save/Load buttons seen in-menu when scrolling mouse over. You can also modify controls in the in-menu.
You can expand the game to fullscreen using the in-menu option.
For mobile use onscreen game controls.
Playable Platforms: Play Resident Evil: Gaiden online with Desktop PC, Mobile Devices, & Chromebook web browsers. [PC Google Chrome Browser Recommended].
---