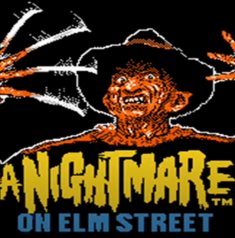 Description: A game based on the classic horror movie "A Nightmare on Elm Street". You'll play as an ordinary teenager trapped in Freddy's world. You'll encounter all kinds of different enemies such as Zombies, dogs, giant flies, spiders, ghosts, and different Freddy Krueger bosses. Do you have what it takes to finally defeat Freddy?
How To Play?: You can play with up to 4 players but each player won't play at the same time. When playing you'll make your way through different houses and at the school campus. Your goal is to collect as many bones as you can and burn them in the school's furnace to weaken Freddy and fight his final form. Be careful though watching your dream meter. If your meter runs out, you'll fall asleep and be transferred to the dream world where Freddy is most powerful. Collect coffee to stay awake and increase your dream meter. If you need further help watch the walkthrough video at the bottom of this article.
Developer: Rare (1989)
"Enter Key" = Start Game.
"Arrow Keys" = Move.
"Z" Key = Jump.
"X" Key = Punch Attack.
To Save Game Progress State Press = [Shift+F2], Load Progress State [Shift+F4], or use Save/Load buttons seen in-menu when scrolling mouse over. You can also modify controls in the in-menu.
You can expand the game to fullscreen using the in-menu option.
For mobile use onscreen game controls.
Playable Platforms: Online on all Web browsers (Desktop PC and Mobile Phones / Tablets). If you're playing this game using a mobile device please allow more time for the game to load up. [PC Google Chrome Browser Recommended].
Video Walkthrough: