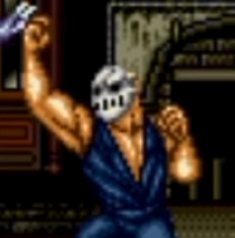 Description: Part 3 is the final game in the Splatterhouse trilogy. This game takes place 5 years after the Splatterhouse 2 game. Rick and Jenifer are now married and have a son named David. The powerful demon mask is calling Rick though. Rick must put on the mask one last time to fight the evil threatening demons that have invaded his mansion. Creating the new "Splatterhouse" in his once lovely home. It's Rick's last chance to defeat the evil that keeps following him and Jenifer. Will Rick and his family survive? Will Rick take care of this demon problem once and for all? It's all up to you, play to find out!
How To Play?: Like the 1st and 2nd games Splatterhouse 3 is also a beat em' up game. Like in the other games movement and attack timing is vital to surviving through levels. There have been some changes though. Rick and enemies are now faster making the overall gameplay faster paced. Rick now has a beast transforming power that works great against difficult enemies.
Developer: Now Production (Original Release 1993)
Controls:
"Enter Key" = Start Game.
"Arrow Keys" = Move.
"Z" Key = Jump.
"X" Key = Punch & Kick Attack.
"S" Key = Use Special Transforming Power (Only when power guage is full).
To Save Game Progress State Press = [Shift+F2], Load Progress State [Shift+F4], or use Save/Load buttons seen in-menu when scrolling mouse over. You can also modify controls in the in-menu.
You can expand the game to fullscreen using the in-menu option.
For mobile use onscreen game controls.
Playable Platforms: Online on all Web browsers (Desktop PC and Mobile Phones / Tablets). If you're playing this game using a mobile device please allow more time for the game to load up. [PC Google Chrome Browser Recommended].
Video Walkthrough:
---