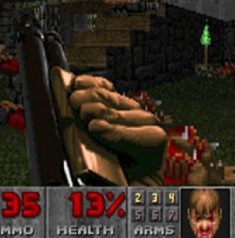 Description: Final Doom was a Doom 2 expansion that originally released in 1996 for MS-DOS PCs. This expansion adds two new doom games TNT: Evilution and The Plutonia Experiment. These games are awesome with some cool level design, environments, and enemy spawns. Every hardcore classic Doom fan should check out these games. Get your weapons out and have fun!
How To Play Tips: press the "1" or "2" key to select which game you want to play. Set on easy difficulty if you are new to Doom. Shoot demons, backing away while shooting is a good strategy. Find colored key cards to unlock doors and try to find the endpoint door to pass the level.
Controls: "Enter Key" = Make Selections. "Arrow Keys" = Move. "Ctrl Key" = Attack. "Space Bar" = Open Door.
Playable Platforms: Play Final Doom (DOS) online with Desktop PC, Mobile Devices, & Chromebook web browsers. [PC Google Chrome Browser Recommended].
---