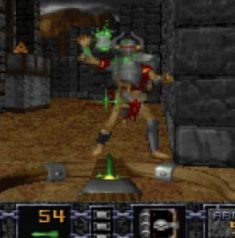 Description: Heretic is a dark fantasy first-person shooter horror game originally released for DOS in 1994. Three brothers were known as the Serpent Riders powerful magic to possess seven kings of Partners, now corrupted armies are roaming this world. Sidhe the heretic has waged war against the Serpent riders! Play through many doom-like levels. Enjoy!
How To Play Tips: If this is your first time playing this game set it on the easiest difficulty. Shoot enemies, find switches and try to find the endpoint to pass the level.
Controls: "Enter Key" = Make Selections. "Arrow Keys" = Move. "Ctrl Key" = Attack. "Space Bar" = Open Door.
Playable Platforms: Play Heretic (DOS) online with Desktop PC, & Chromebook web browsers. [PC Google Chrome Browser Recommended].
---