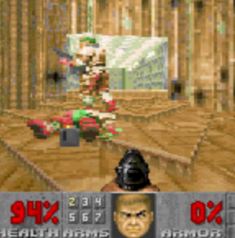 Description: This is the Gameboy Advance Port of Doom 2 originally released in 2002. Overall It is a good port of the original MS-DOS release of Doom 2. There are some differences though. There isn't any blood and the game runs at a lower frame rate. Other than that this is still 100% the same game.
How To Play: In each level, you'll have to kill demons and Zombie men that are in your way. Your objective is to collect colored key cards that open up doors you haven't been to. Try to find the exit door to advance to the next level.
Controls:
"Enter Key" = Start Game.
"Arrow Keys" = Move.
"Z" Key = Open Door, Hit Switches.
"X" Key = Shoot Gun / attack.
Hold "S" Key = Cycle Weapons.
"Shift Key" Key = Use Map.
To Save Game Progress State Press = [Shift+F2], Load Progress State [Shift+F4], or use Save/Load buttons seen in-menu when scrolling mouse over. You can also modify controls in the in-menu.
You can expand the game to fullscreen using the in-menu option.
For mobile use onscreen game controls.
Playable Platforms: Play Doom 2 (GBA) online with almost all Web browsers (Desktop PC and Mobile Phones / Tablets). If you're playing this game using a mobile device please allow more time for the game to load up. [PC Google Chrome Browser Recommended].
Video Playthrough: