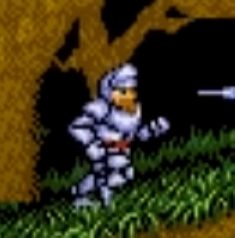 Description: Playing as the knight Arthur you must advance through a series of horror-themed levels. On a quest to save his beloved Princess Prin-Prin. He will battle through the evil dark monsters, ghouls, and ghosts that await him. Ghouls 'N Ghosts is a classic sidescrolling platform game that originally released in arcades in 1988. It later released on many different home consoles.
How To Play: Run through levels tossing your dagger at enemies to defeat them. be observant and evade when you need to. When Arthur is hit he loses his armor, so be careful. Collecting powerup's will help you. This game is hard, so you might need some helpful tips. Watch the Video Playthrough below for help.
Controls:
"Enter Key" = Start Game.
"Arrow Keys" = Move.
"Z" Key = Jump.
"X" Key = Attack.
To Save Game Progress State Press = [Shift+F2], Load Progress State [Shift+F4], or use Save/Load buttons seen in-menu when scrolling mouse over. You can also modify controls in the in-menu.
You can expand the game to fullscreen using the in-menu option.
For mobile use onscreen game controls.
Playable Platforms: Play Ghouls 'N Ghosts online with almost all Web browsers (Desktop PC and Mobile Phones / Tablets). If you're playing this game using a mobile device please allow more time for the game to load up. [PC Google Chrome Browser Recommended].
Video Playthrough:
---