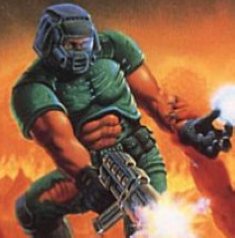 Description: This is the Doom SEGA 32X console port released a few years after the original MS-Dos version. In Doom, you'll play as a space marine on mars. You'll fight hordes of evil demons from hell. Throughout the game, you'll discover all kinds of awesome weapons. Such as a Shotgun, rocket launcher, BFG, and a chainsaw. Doom was one of the most controversial games of the early '90s. It's also one of the most iconic first-person shooters to push the genre forward.
How To Play?: Doom is made up of maze-like levels full of demons trying to kill you. Colored keys are needed to unlock special doors to progress through levels. Kill enemies in your way and find the keys you need to make you're way to areas of the map. There is an endpoint on each map.
Developer: id Software (1993)
Controls:
"Enter Key" = Start Game.
"Arrow Keys" = Move.
"Z" Key = Strafe
"A" Key = Change Weapon
"X" Key = Shoot Gun
To Save Game Progress State Press = [Shift+F2], Load Progress State [Shift+F4], or use Save/Load buttons seen in-menu when scrolling mouse over. You can also modify controls in the in-menu.
You can expand the game to fullscreen using the in-menu option.
For mobile use onscreen game controls.
Playable Platforms: Online on all Web browsers (Desktop PC and Mobile Phones / Tablets). If you're playing this game using a mobile device please allow more time for the game to load up. [PC Google Chrome Browser Recommended].
Video Walkthrough: