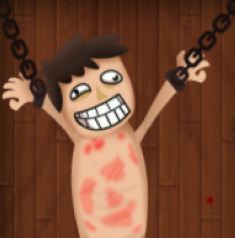 Description: This Trollface is looking for some harsh punishment. He is chained up and ready for a virtual beating. As a player, you can relieve stress at your own pace. You'll start with fists, but there are many awesome weapons to buy like knives, automatic guns, Shotgun, Spikes, bombs, traps, and much more. Have fun!
How To Play Tips: Keep torturing him to earn coins. With the coins, you can buy new and awesome weapons. Try to buy all weapons and level up as high as you can.
Controls: Use "Mouse Click" to attack and make on-screen selections.
Playable Platforms: Play Torture The Trollface online with Desktop PC, Mobile Devices, & Chromebook web browsers. [PC Google Chrome Browser Recommended].
---