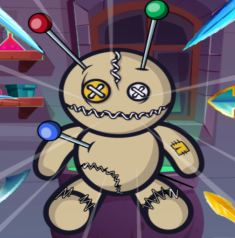 Description: Enough is enough, life has become very unstable because of this evil Voodoo doll. It's now time to torture it in all kinds of crazy ways. You'll start out with a basic punch attack. Keep on beating on this Voodoo doll though, he has a lot of money to give!
How To Play Tips: Keep attacking the Voodoo doll for money and to level up. With the money, you can buy more powerful weapons, masks, and even punishing animals. Keep on upgrading and try to collect everything in the item shop.
Controls: Use mouse "click" to attack the Voodoo doll and make selections.
Playable Platforms: Play Voodoo Doll online with Desktop PC, Mobile Devices, & Chromebook web browsers. [PC Google Chrome Browser Recommended].
---