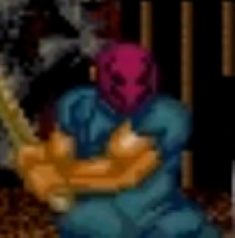 Description: Splatterhouse first released in arcades in 1989. It is a horror beat 'em up game. It later released on the TurboGrafx-16 console and Windows PC. This game was obviously influenced by Friday The 13th and other 1980's horror films. The character you play as is named Rick Taylor. He looks very similar to Jason Voorhees with the same Hockey Mask brute built body. He will have to battle his way through a monster-infested mansion known as the "Splatterhouse". Rick is on a quest to save his friend Jennifer Willis who got kidnapped by something in the mansion.
How To Play: You can move left or right. Attack and defeat monsters that are trying to hurt you, using punches and kicks. Know when to avoid getting hit. Try to keep your heart health up.
Controls:
"Enter Key" = Start Game.
"Arrow Keys" = Move.
"Z" Key = Jump.
"X" Key = Punch.
"Z"+"X" Key = Jump Kick
To Save Game Progress State Press = [Shift+F2], Load Progress State [Shift+F4], or use Save/Load buttons seen in-menu when scrolling mouse over. You can also modify controls in the in-menu.
You can expand the game to fullscreen using the in-menu option.
For mobile use onscreen game controls.
Playable Platforms: Play Splatterhouse online on all Web browsers (Desktop PC and Mobile Phones / Tablets). If you're playing this game using a mobile device please allow more time for the game to load up. [PC Google Chrome Browser Recommended].
Video Walkthrough:
---