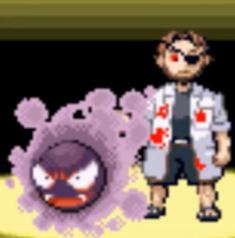 Description: Pokemon Dark also known as the "Pokemon Creepy project" is a fan-created revision game by modder Tyler Frisbee. Tyler's main focus was to create the darkest, most creepy, and depressing Pokemon game ever. I think it's on the right track. I got really spooked when I played through it. This project is still a work in progress. Right now only a very short version of the game is available. Enjoy!
How To Play Tips: Just follow the creepy short story. Turn the lights off, maybe play this game with a few friends, and enjoy!
Controls:
"Enter Key" = Start Game.
"Arrow Keys" = Move.
"Z, X, C, A, S, D" Keys = Action Keys.
To Save Game Progress State Press = [Shift+F2], Load Progress State [Shift+F4], or use Save/Load buttons seen in-menu when scrolling mouse over. You can also modify controls in the in-menu.
You can expand the game to fullscreen using the in-menu option.
For mobile use onscreen game controls.
Playable Platforms: Play Pokemon Dark online with almost all Web browsers (Desktop PC and Mobile Phones / Tablets). If you're playing this game using a mobile device please allow more time for the game to load up. [PC Google Chrome Browser Recommended].