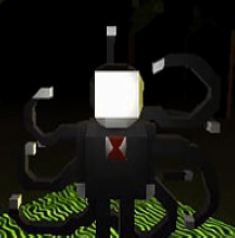 Description: Slender Man has invaded the Kogama kingdom. A block boy is trapped in a dark forest will he survive? Depends on how bad he wants to get away from Slender. There is a way out but it won't be easy. Slender is creeping around dark corners waiting for the perfect opportunity to attack. The block boy needs to be ready to defeat his objective.
How To Play Tips: Collect all the stars and avoid Slender Man.
Controls:
W, A,S,D Keys = Move. Mouse = To Look View. Esc Key = Lock Mouse Cursor. Shift key = Run. Space Bar Key = Jump. E Key = Use & interact with objects.
Playable Platforms: Play Kogama: Slender Man online with Desktop PC, Mobile Devices, & Chromebook web browsers. [PC Google Chrome Browser Recommended].
---